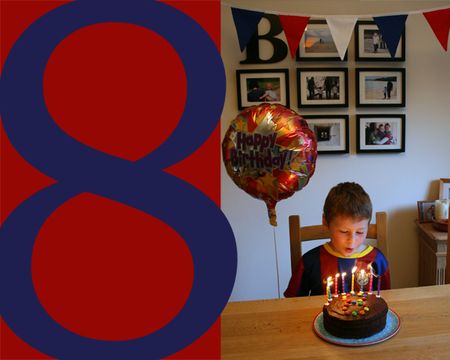 Last week Matthew turned 8. He celebrated with his friends by having a football party at a local leisure centre. We have always had the birthday parties at home, but this time he asked if he could have a football party and seeing as it very often rains on his party day we agreed he could. It did indeed rain on the party day, with thunder and lightning too boot the night before. Good decision!
They had nearly a full hour of playing football and by the end they were all red faced and very thirsty! I managed to take some incredibly rubbish photos, I blame it on the poor lighting, the speed of the kids and the fact that my camera battery died just as Matthew was about to blow out the candles on his cake. Luckily I had my little camera with me so the moment was captured - phew!
(I cropped these in close - hence the poor quality, didn't want to show the other kids faces without their parents permission) The photo above with Callum trying to blow out Matthew's candles reminds me of this layout from 4 years ago.
Each child was awarded a medal when they finished the football match, which luckily ended in a draw. Then they sat down to party food and lots of drinks and went home with a little party bag and a football each. He had a great time with his friends.
On his actual birthday he woke up early to find a helium birthday balloon floating in his bedroom and had time to open presents from us before having to go to school. His main present was Lego Hagrid's Hut, requested sometime ago. We also gave him several books on Harry Potter, including an amazing Film Wizardry book and a very detailed pop-up book, amongst other gifts.
It was a particularly busy day. Callum had a school trip to a farm (reason for his non-school uniform) and I was going too, then after school they both had football clubs and Jeff was working. Still we managed to fit in opening more presents, my family (including their twin cousins) coming over for the afternoon (whilst I was doing shuttle runs to the football pitches with the boys), a fish and chip dinner, singing 'Happy Birthday' and Matthew blowing out the candles on his homemade birthday cake. Oh AND finishing building Hagrid's Hut!
Do you see what Callum has in his hand? - Harry Potter glasses. We gave both the boys HP glasses, a Harry Potter wand and a Gryffindor tie, all to go with the Hogwarts robe I'd made (I'm still to finish Callum's so he put on Matthew's - I'm not happy with the red lining, so the next one will be black).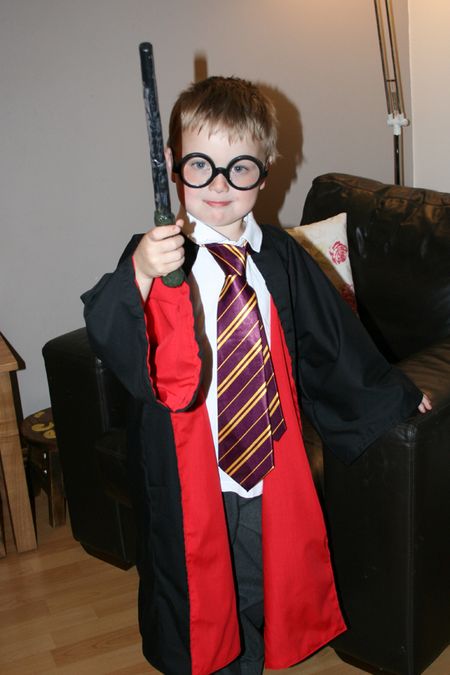 Because we knew that his birthday was going to be a hectic day we decided we'd have a family day out on the following saturday. Matthew got to choose what we did and where we ate. He chose the cinema to see Rio in 3D and Pizza Hut for dinner.
I wonder what being eight will be like?