A little catch up since my last blog post...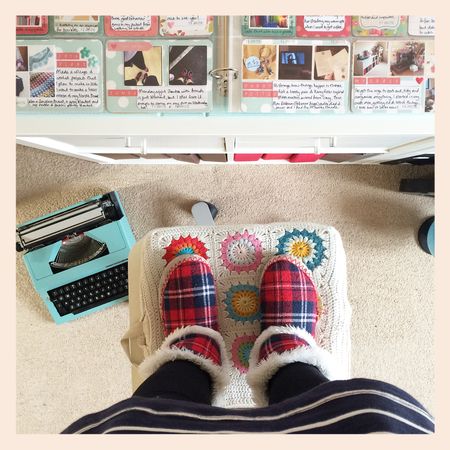 I'm still here just more present on Instagram these days, I like the ease at which I can post a photo I've just taken with a little heading or status and it's done. You can find my private account where I share everyday life @jobo74 and a public account for all my crafty goings on @jobo_creates
The main form of memory keeping I do regularly is Project Life, yes still going with this, love it. 2016 will be my 5th year.
I am still on the Hey Little Magpie Creative Team, sharing my projects on the 8th of each month on the Hey Little Magpie blog. You can catch up with all my past projects here.
You can also find me in every issue of the Docrafts monthly magazine Creativity making all sorts of different papercrafting projects with the Docraft products. There's a few past projects sprinkled in with the Docrafts Team blog projects, including these favourites of mine an owl gift bag here and wall décor flowers here.
Since my last proper blog post two of the magazines I regularly appeared in have sadly ceased publication, Scrapbook Magazine and Get Stamping. On the up side I feature occasionally in their sister magazine Simply Cards & Papercraft and have also appeared in Papercraft Essentials, both of these feature card projects.
Away from the papercrafting scene I am still really enjoying crochet. I have been making lots of things from blankets to hats and shawls. I've recently subscribed to a new monthly crochet kit called Little Box of Crochet. I love that it introduces me to new yarns and new projects and techniques which I may well not have tried. Not knowing what is in the box until it arrives is exciting.
I also worked with a craft company and designed lots of crochet projects using their t-shirt yarn Boodles, you can find the designs on their website as free downloads. Most of the crochet bags and all of footstools are my designs, plus there are lots of other items designed by me too. My favourite item I designed is a yellow teardrop style bag with a tassel and the company decided to call it the 'Joanne' bag, after me.
I have also been designing crochet kits through the same craft company which have been on sale in Hobbycraft, these include a hot water bottle cover, boot cuffs and little animals. 
I've also worked on (pattern checking / making up for photography purposes) kits designed by others including the cutest monkey and giraffe kits in Hobbycraft and Frozen doll kits sold in John Lewis and The Range, again with the same craft company.  
So that's you fairly caught on me, so as you can see I've been keeping myself busy. My two boys Matthew and Callum are growing up, they are now 12 and 10. The eldest is at grammar school and the other will hear next week if he too has a place at the same grammar school starting in September. With the boys growing up I shall be focusing my blog from this point forward on craft related projects, of course my family will still feature in Project Life spreads, scrapbook layouts and mini-books, there just won't be dedicated blog posts on them.
Well that's it from me today, see you soon to share some past projects!
Jo x