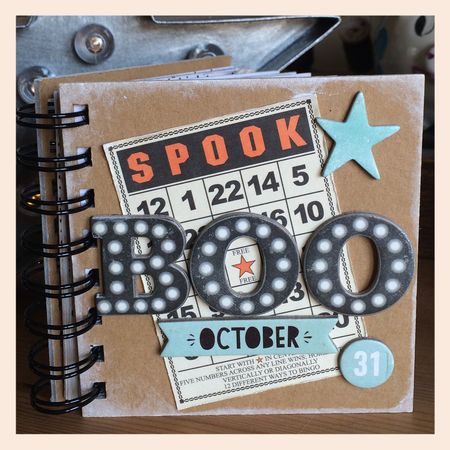 Yep, you read that right, I've just made a Halloween mini-album in March. It's an idea I've had in my head for ages and I even bought the supplies last year with the intention of making this last October. Now, nearly six months later it's made and I really love it.
The main collection used is After Dark by Crate Paper, a Halloween release last year. I only bought the chipboard sticker sheet, the cut apart tags and a couple of pieces of paper 'Midnight' (hand drawn stars) and 'Fright & Fun' (chevron b-side). I added a couple of other papers 'Wax Bottles' from the 2011 October Afternoon collection 5 & Dime and 'Carousel' paper from the 2012 Midway collection. All of them were trimmed to 4x4", the size of a 7Gypsies mini album I found in my stash. I used my favourite Mini Market letter stickers by October Afternoon (they are all from old collections), some old Jenni Bowlin bingo cards and a few blue star stickers by Studio Calico (I didn't end up using any of the word stickers shown). Feels great to bust some stash and not use anything new! I rubbed a white ink pad around the edges of the album cover for create a weathered effect and a dark grey ink pad around some of the tags. I also added some Papermania bakers twine to the tags and popped the tags up with foam pads.
I've decorated a couple of extra spreads in case the boys want to dress up again this year and next, if they do I'll change the year on the opening page. But if they don't then I'll probably add a couple of photo collages from the years 2009 to 2015.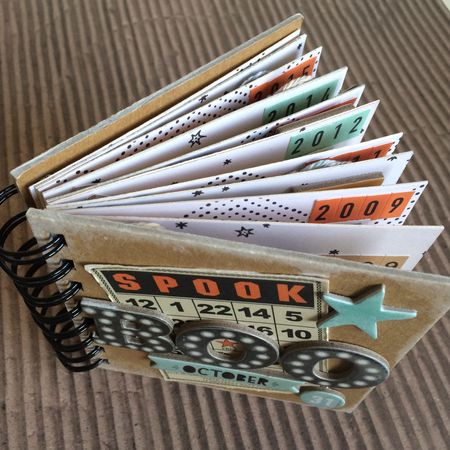 And that's another project ticked off my 'to make' list, yay!