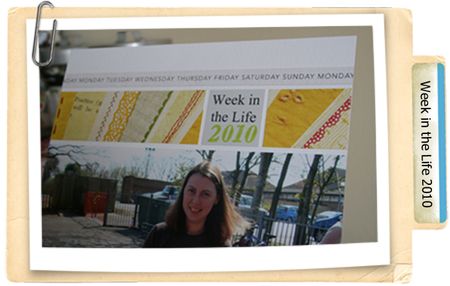 One month later and here is my complete album for my 2010 Week in the Life.
Opening Page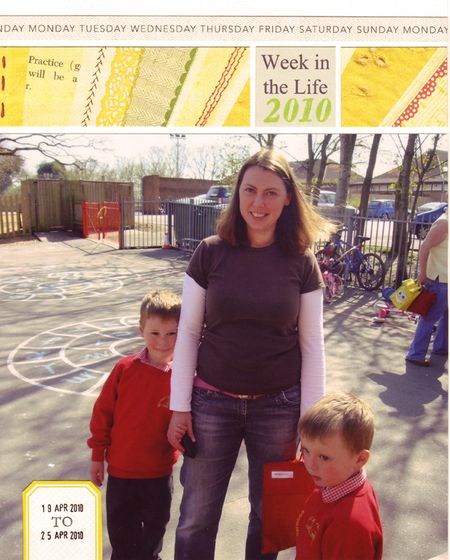 Monday 19th April
Wednesday 21st April
Thursday 22nd April
Friday 23rd April
Saturday 24th April
Sunday 25th April 
Extra Stuff Pages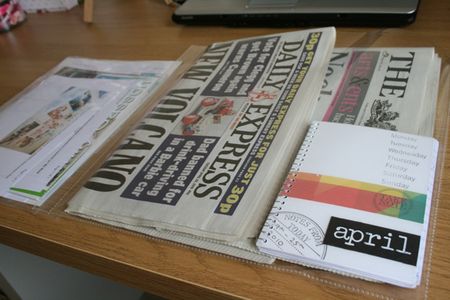 I used a 12 x 12 page protector at the end to fit in two newspapers and my notebook for the week. I've put everything into a 12 x 12 American Crafts D-ring binder which also contains my 2008 Week in the Life and 2009 project '12 on the 12th'. As you can see below the WITL section for 2010 is fairly beefy, I definitely couldn't fit anymore into the album!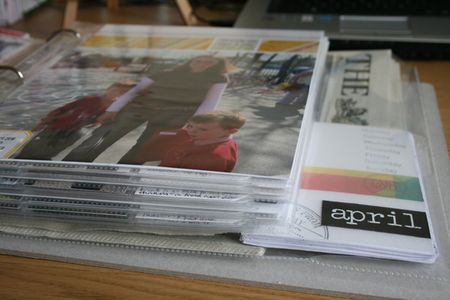 Products Used
Cardstock; White Orange Peel - Bazzill Basics.
Patterned Paper; Sassafras Lass (Opening Page, Tuesday, Thursday and Saturday), American Crafts (Monday), Imagination Projects (Wednesday), Ki Memories? (Friday), MME (Sunday) and SEI (light grey date tabs).
Digital Elements; Twill Strips - Ali Edwards, Day Labels - Katie Pertiet.
Stamps; Hero Arts (Letters), Hobbycraft (Numbers), WHSmith (library date stamp), Scenic Route (Days, Today, Routine), Cats Life Press (Notes from Today and Here's the Story), 7Gypsies (Observations and dotted circle), Ali Edwards for Technique Tuesday (Gratitude, Life and The Details), Ali Edwards CK Kit (Find Beauty Everyday), Heidi Swapp (clock) and Fontwerks (Good Stuff).
Inks; Staz On, Color Box and Versa Color.
Letter Stickers - Scenic Route.
Page Protectors - 8.5 x 11 and 12 x 12 - American Crafts, Trading Cards Protectors - WHSmith.
Album - 12 x 12 Modern D-Ring - American Crafts.
This project does require lots of time and effort, but it is so worth it. I know that in years to come it will be great to look back at and remember how our life was back then!