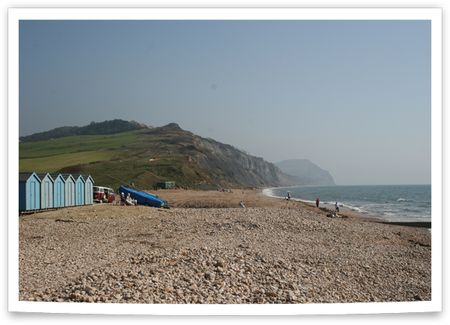 It has been a very busy half term, what with my new job, Matthew starting a new football team (training on Saturdays and matches on Sundays), plus all the usual. My work involves lots of early mornings (not so nice) and lots of travelling. I get to see some beautiful villages and countryside on my travels and sometimes a chance to take a walk and explore, like in the photo above at Charmouth.
Callum has been looking at Robots for his topic this half-term and thankfully was happy to wear the C3PO costume I had made Matthew 2 years ago. I definitely wouldn't have had the time to make something new this time round.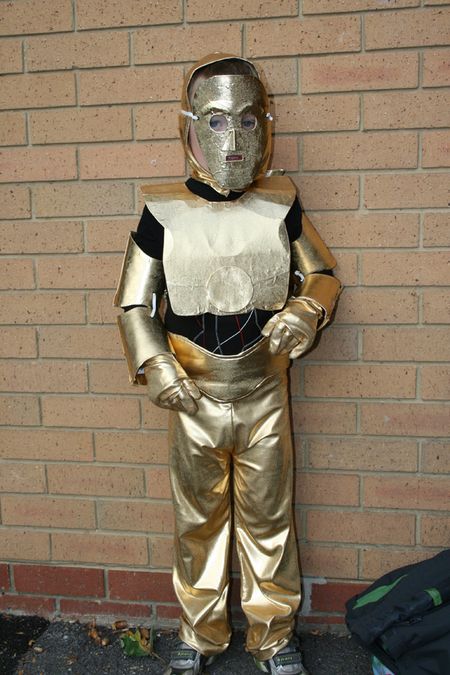 Callum was very taken with those gold trousers and kept them on all day...jumping on the trampoline...playing lego...and pretending to be a 'rockstar'...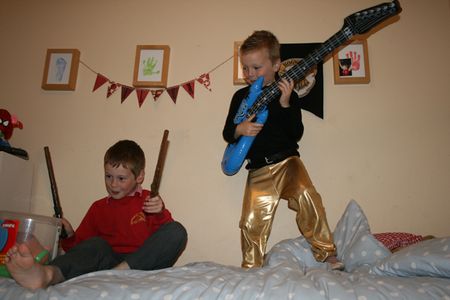 ...he got a belt out of the dressing up box and a blow-up guitar and Matthew used the Harry Potter wands as drumsticks and the Mr Potato Head tub for a drum, the stage was Callum's bed. I then got out my old bass guitar from nearly 20 years ago...it was very heavy for them.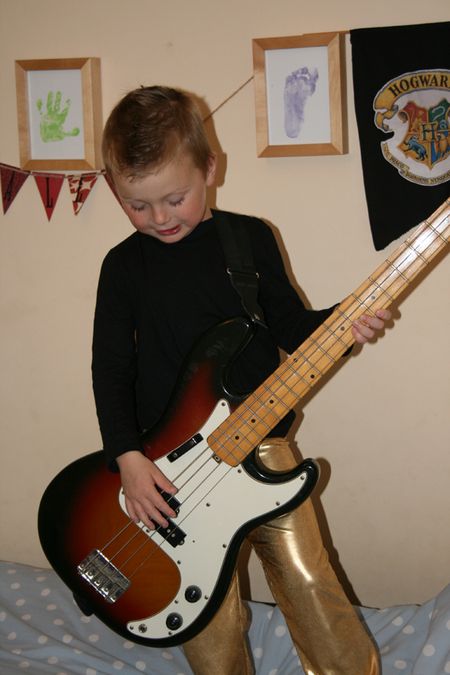 Matthew joined the local youth football team Rossgarth FC at the beginning of October and played his first match just a week later in the Dorset League under 9's. Rossgarth have about 20 different teams covering all different ages, there are 3 teams in the under 9 club. Matthew is LOVING it, he doesn't want to miss a single match.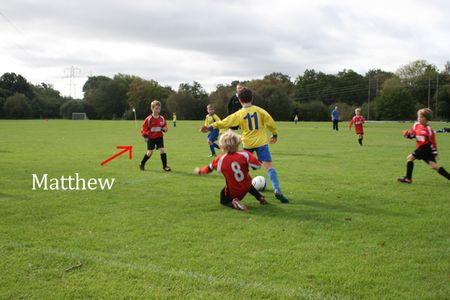 He has played 3 matches since joining, including one this morning. They are yet to win a match, but the team members are all new and this is their first season playing together. They are definitely improving.
I had to break my scrapbooking draught for this event...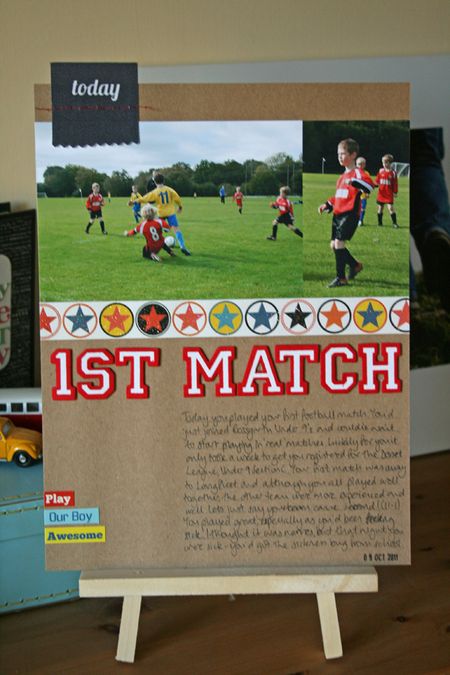 (Supplies - patterned paper and Stickers - Bella!, letter stickers - American Crafts, fabric tab - Ormolu)
The twins, my little niece and nephew are growing up fast, Louisa has 8 teeth already!
Jeff has been finding time to get out and play golf. I joined him on wednesday as I wasn't working. Jeff is a member at the same club my Dad belonged to when I was growing up, so it was nice to walk around the course with him and remember when I did that 25 years earlier with Dad. I hit a few balls but my main objective was to take some autumnal photos. Yes, my day off from photographing school children and I'm out with my camera photographing nature instead!
There are two courses at the club, the manor and the forest course. The forest course has New Forest ponies wandering over it, but typically on this day we didn't see any up close until the very last hole.
Those who know me, know that since Twilight I have read lots of books. I have been planning for over a year to make a mini-book like the one Ali Edwards made and shared in her book Sharing Your Story.
(Supplies - cardstock - Bazzill Basics, patterned paper - October Afternoon, letter stickers - Basic Grey, Library Cards - digital by Katie Pertiet, other - book ring, photo paper, corner rounder and Crop-a-dile. Images sourced from the internet)
I'm currently reading Stephenie Meyer's (author of Twilight) book The Host. What book are you reading right now? Which book would you suggest I read next?
AND I'll leave you with a photo from Callum's latest home learning - Robots. He made a lego robot do different jobs, I took photos of each one and he called the project 'Bob's Jobs'. This was his favourite one...
Yep - that would be 'Bob' cleaning the toilet! Now actually a robot that could do that would be very useful and welcome in my home!