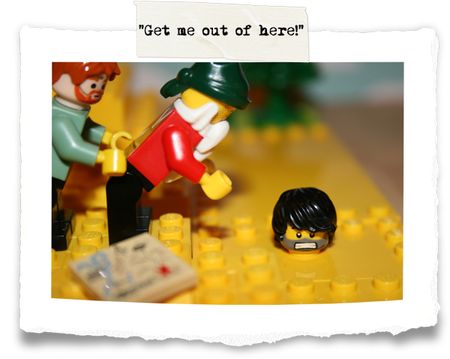 If October was all about knights, then November is all about pirates. For that's Matthew's school topic this half-term, and of course there's always a lego project involved in his topic home learning. This time he wanted to make a pirate story with lego scene pictures and writing. The first week he introduced the ten main characters which included Captain Whitebeard, Scaredycat Pat, Sally Shortlegs and Unibrow Loonynow to name just a few.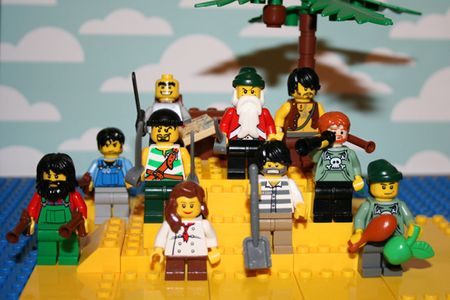 The next week was Chapter 1 - The Mystery Island. (Here's a couple of shots from each chapter and some of the story)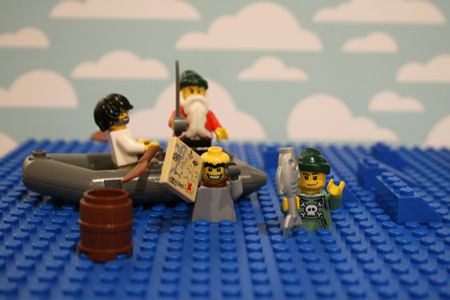 Suddenly the sea got choppy and two fell out of the boat. Then a barrel floated by. In the barrel Unibrow found a treasure map and Greedy McReedy found a fish in his pants!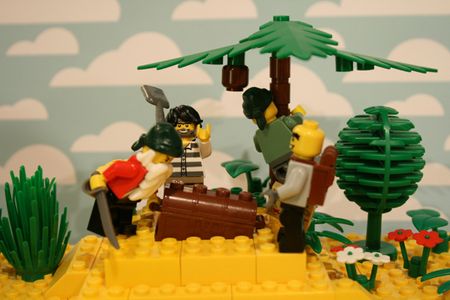 While the crew dug where X marked the spot, Greedy McGreedy climbed a tree for a coconut.
Week 3. Chapter 2 - The Ghostly Attack.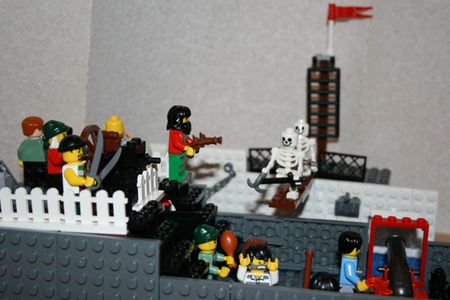 The ghostly skeletons boarded the pirate ship!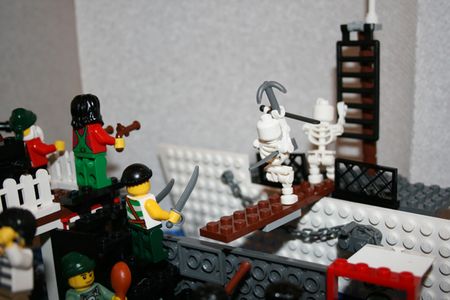 However they were no match against Dufus Rufus and Cutlass Jim. They ran back to their ship, one had a cutlass stuck in his ribs!
Week 4. Chapter 3 - The end of Unibrow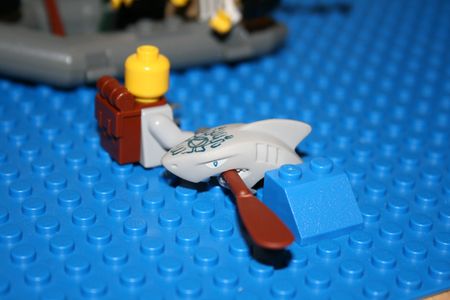 The shark pulls Unibrow's oar and he goes into the water. Unibrow disappears. "Oh well" said Captain Whitebeard, "I've still got the map!"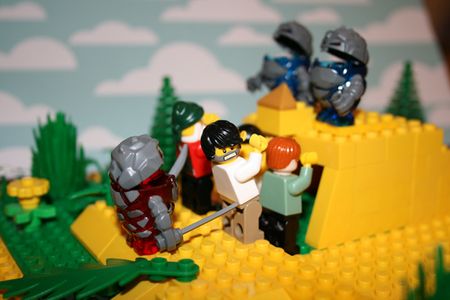 They found a cave on the island. A monster came out of nowhere and they had to surrender "Shiver me timbers!"

Next week, the final installment... Will the pirates escape from the monsters and will they find any treasure?
I've spent a good bit of time with my sewing machine. This week Matthew's year group had 'Pirate Day' and all of them went to school dressed as pirates. With some inspiration and instructions from a great little book, Cute and Easy Costumes for Kids and some ideas of my own, Matthew had a very cool little outfit.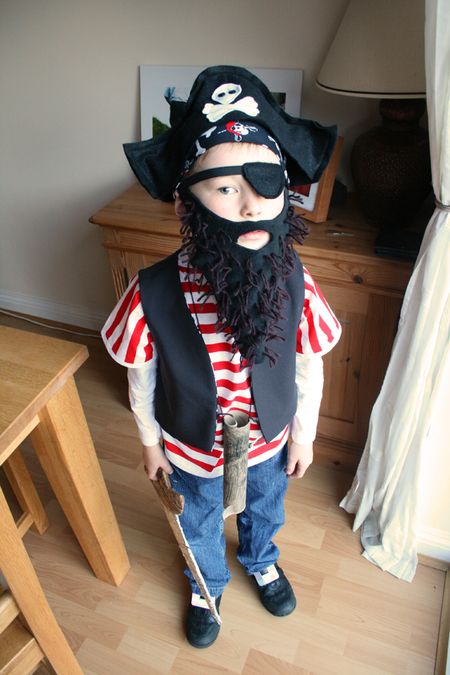 Ahh, Jim Lad! The waistcoat, pirate hat and eye patch were from the book. The red striped top, beard, bandana and shoe buckles were my creation and the telescope was Matthew's.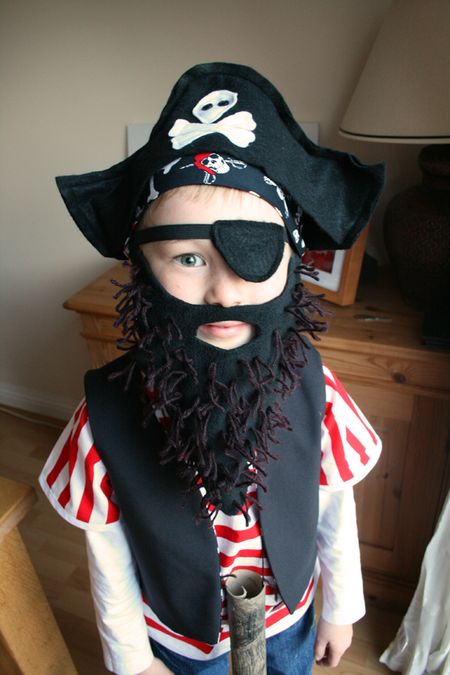 I've been enjoying watching "I'm a celebrity...get me out of here!". There's a bunch of great characters in there this year. My favourites at the moment are Shaun, Jenny and Dom. Thank goodness they can now choose who gets to do the bush tucker trials so we don't have to watch Gillian faint and give up. Have you been watching it?
Can you believe it's nearly the end of November? Wow it has absolutely flown, I've been so busy. Last weekend I emptied out the playhouse and washed / cleaned everything, I mean everything. From crockery and bedding to curtains and pretend vegetables, from tables and chairs to shelf units. It took all of the Saturday, with a little distraction of the film Harry Potter and the Philosophers Stone (which the boys loved) and some of Sunday too.
Oh and I've got two scrapbook layouts to share which I made a few weeks ago.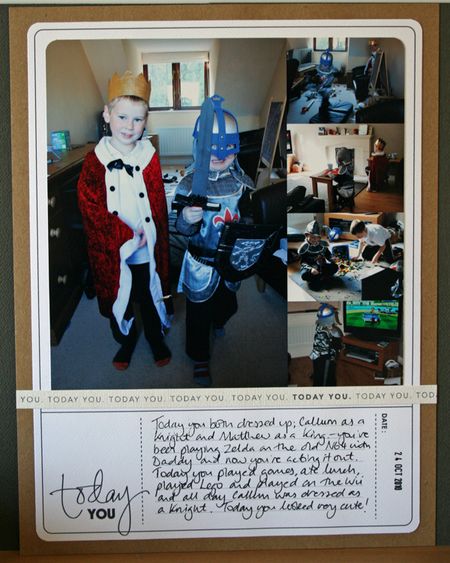 I used a digital overlay and digital twill by Ali Edwards on this one, kept it simple.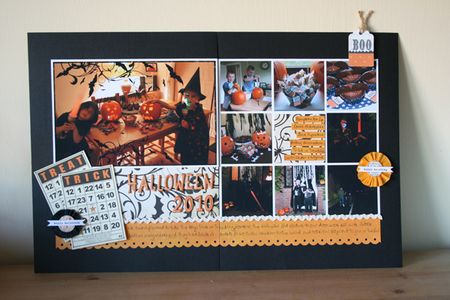 And this one uses bingo cards by Jenni Bowlin and crepe rosettes and paper by The Girls Paperie, plus some vintage ric-rac.
We had a little dusting of snow last night, but it has all gone now. Maybe we'll get some more tonight for Jeff's birthday, which is tomorrow. Then it'll be December and it's going to be one very busy month. My sister's twins are due in less than 3 weeks, I can't wait to be an Aunty! Little babies to add to all the usual loveliness, hectic and exciting times in the lead up to Christmas.
Well it's time for me to bake a cake, so best be off. Have a lovely week.