BEING SNEAKY & BIG LETTER B - Jeff said some time ago that we needed more photos up around the house. After that an idea began to percolate in my head. I had a vision of something very cool, something that shows off lots of photos in a creative way. I also had a deadline because Jeff was going to be away for a week and I knew that it would be the perfect opportunity to do it whilst he was away. Some ideas are best shown once they are completed, when there's no going back! Like this...
and this on the opposite wall...
Thankfully Jeff loves it and I can breathe a sigh of relief - phew! The photos are a mixture of those taken by my fabulous photographer friend Janine a few years ago on a photoshoot in Northern Ireland, by me and one by Jeff. The wooden letter B is from a company I found on the internet, The Wooden Letters Company who coincidentally are based in Northern Ireland. You can choose different sized letters in different fonts and lots of colours and paint effects. I had ordered the letter B and a number 4 (which in the end I didn't use in the wall gallery) before Jeff went away so that I had it ready. The frames are from Ikea (Ribba in black) and I used Photobox for the prints. The close-up photo of Callum is one of my favourites because you can see me, Jeff and Matthew in the reflection of Callum's (Daddy's) sunglasses.
Now as I pass the dining room door I see this. I love it.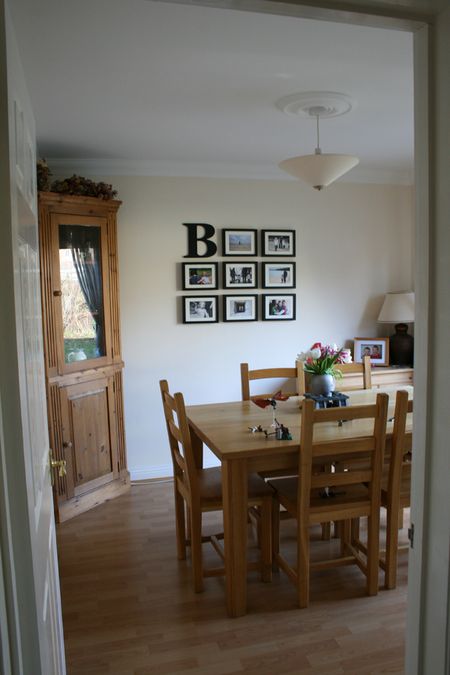 BOOKS - Do you have scrapbooking slumps? I thought I'd get some scrapbooking done while Jeff was away seeing as I'd have the evenings to myself, but I didn't. I did find time yesterday though and when I stamped the date onto my layout I found that exactly one month had passed since my last layout. I am ashamed. To be honest one of the reasons I guess for not getting much scrapbooking done lately is probably due to my reading obsession. I have now completed the Harry Potter series and am currently without a book to read, that's a strange feeling! Can you suggest a good book for me to read next? (Sheila  - I've got Water for Elephants (new cover) on pre-order, out April 14th). On the up side, it provided me with a subject to scrapbook!
(Products used - Cardstock - Bazzill Basics, Patterned Paper - Autumn Leaves, Letter Stickers - Making Memories and MLS, Ticket and Butterfly - Jenni Bowlin, Bingo Number - Maya Road, Digital Photo Frame Cluster - Katie Pertiet, Other - Sharpie Pen and Staples). Inspiration for layout design came from current CK Magazine, 15 minute layout.
BARCELONA FC KITS - Jeff brought the boys back Barcelona football kits, the boys love them and were keen to try them out properly at the recreation ground yesterday.
You'll notice Jeff has a Barcalona top too, I gave it to him for Christmas. They all looked very cute playing together yesterday!
BEAUTIFUL BABES - How could I not post a photo of my adorable niece and nephew?