It's been a busy week what with getting back into the swing of school life, especially with Callum starting too. He got through his first week with no tears and each day when he came out he excitedly showed me the new book he'd chosen. I'm looking forward to next week when he will go in the mornings for 3 hours and maybe I can achieve a little bit more at home whilst he's there.
For now I'm enjoying the weekend, taking it easy staying at home with the kids playing out the front with the neighbours kids. It is also the 12th, which means photo / scrap project today so lots of recording everyday life, like this...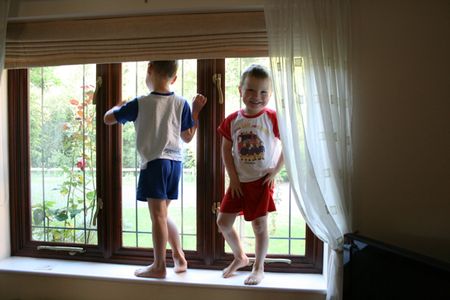 ...waving goodbye to Daddy as he leaves for a golf competition...
and this...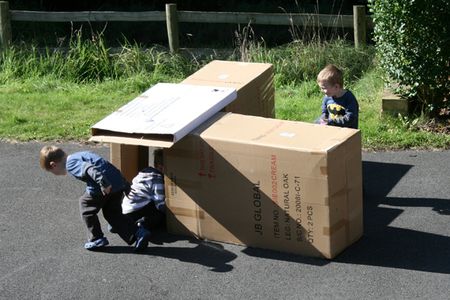 ...building houses with the neighours kids out the front...
and this...
...yep, that's Callum having lunch in a cardboard box!
One morning last week Callum and I went to the coffee shop, something that we would do every so often in the morning when Matthew is at school. Whilst we were there it dawned on me, this would be the last time Callum and I would do this, next week he'd be at school in the morning. I had the camera with me, so I was able to do a layout about it too.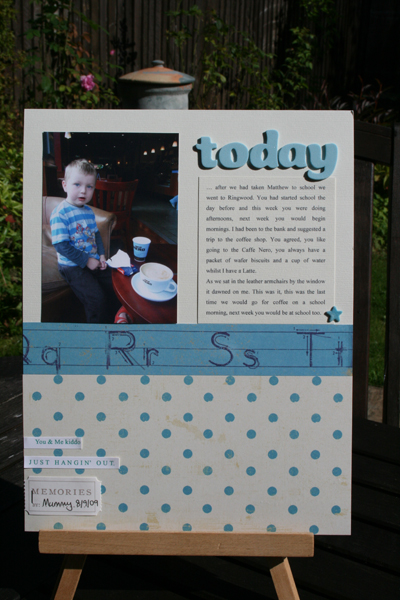 I am loving the vintage look right now, the spotty patterned paper is from Lily Bee and the alphabet paper is from Creative Imaginations. I also used some stickers and a ticket from Creative Imaginations, the letter stickers are American Crafts and velvet star brad is from Making Memories.
A couple of weeks back I made a double page spread about our trip to the Giants Causeway in Northern Ireland on a little steam train, in the rain. I took the colour inspiration from our train ticket and added a leaflet about the railway onto the layout too.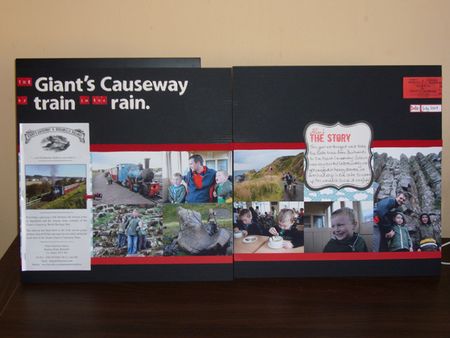 Presently occupying my time is writing entries for my Me, the abridged version class on Big Picture Scrapbooking with Cathy Zielske and reading this...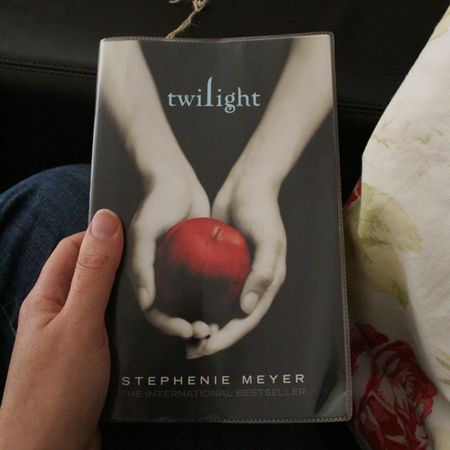 Now, it has to be said that I am not a reader, I hardly ever read a fiction book, favouring magazines and non-fiction books for my chosen reading material. But I decided that since I had joined the library with the boys back in the summer holidays I should make some attempt to read. The Twilight Series of books by Stephanie Meyer had been much hyped by my friends and on blogs that I read, I thought I should at least give it a go. And now I can't put the thing down! I should also mention that I don't like thriller movies or scary stuff, so I'm not entirely sure why I can't put this book down. I guess it has something to do with wanting to find out more about the mysterious Edward Cullen.
That's all I'm going to say right now, I'm going to get a coffee and read some more of the book whilst the boys are happily playing outside in the sunshine. Ahh, welcome weekend.