Documenting one week in our life. Day 5 - Friday 29th July 2011.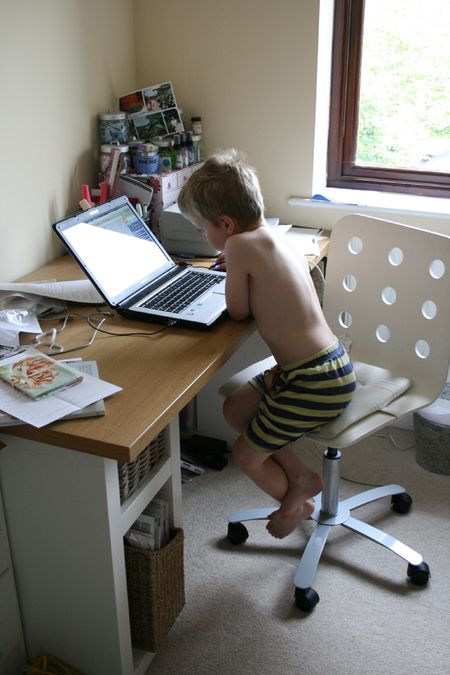 Before breakfast. Callum doing one of his favourite things - playing on Lego Digital Designer.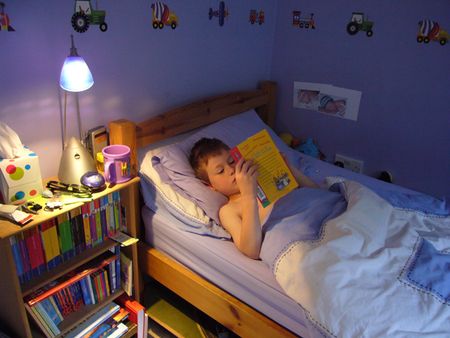 Matthew in bed reading yet another book, this time Charlie and the Chocolate Factory.
Me putting the first of four loads of washing on.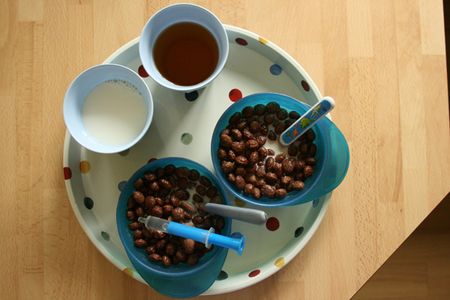 Breakfast time for the boys. Kelloggs Coco Rocks, plus milk and medicine for Callum and apple juice for Matthew.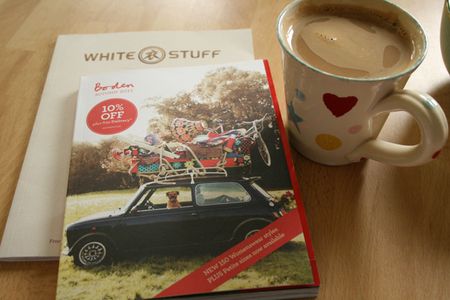 Post arrives with two catelogues for me to look through with my morning coffee.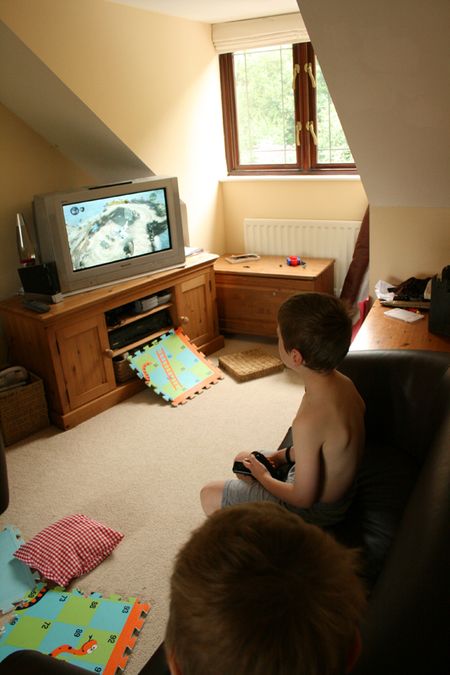 Still in pyjamas, well it is the holidays, Matthew plays Indiana Jones on the Wii.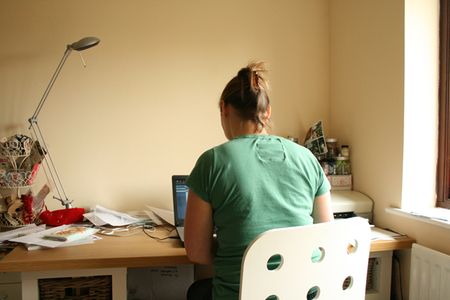 I check out the photos I've uploaded.
Then it's back to housework. This time putting away the dressing up costumes; quidditch cloaks from Callum's party, a knight and a roman gladiator costume the boys wore to school the week before and two Harry Potter outfits.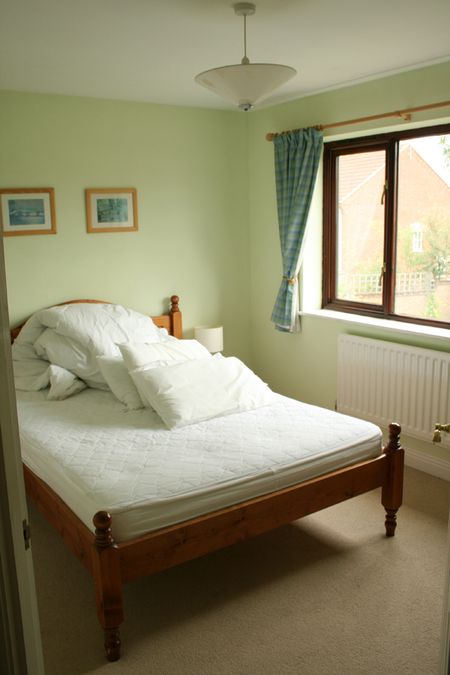 An empty guest bedroom and a bed stripped for the wash.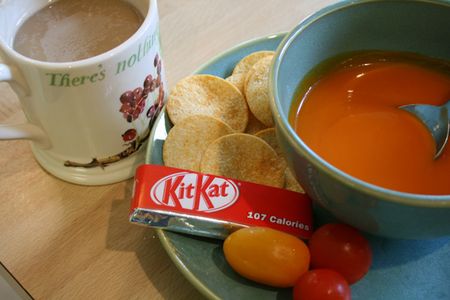 Lunchtime.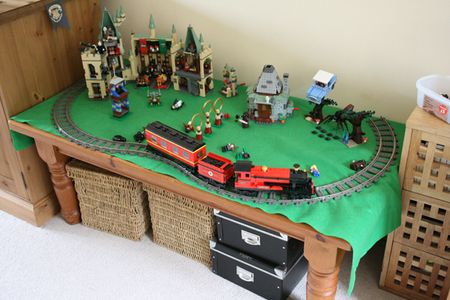 In the long room we I swapped the armchair and the coffee table around, put green felt over the table and the boys arranged their growing collection of Harry Potter lego kits onto it. Hogwarts Express and the two forbidden forests kits were new additions for Callum's birthday. See how Callum has lodged the Weasley's car into one tree which is now to be known as the 'whomping willow'!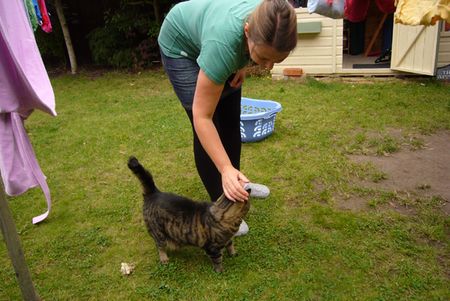 Hanging the last load of washing out and I'm greeted by Chloe.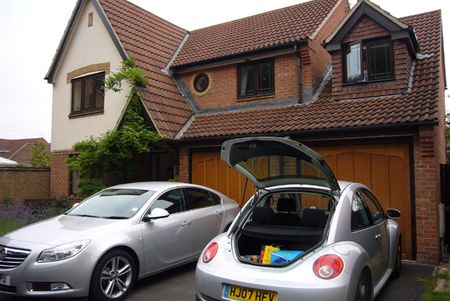 Just returned from a trip to Morrissons the local supermarket and Callum is telling me about what he's designed in Lego Digital Designer. Both those cars are mine, I'm selling my VW Beetle due to the arrival of my company car (actually this is a long term rental car until I get my real company car, which I'm sure won't be quite so impressive looking!).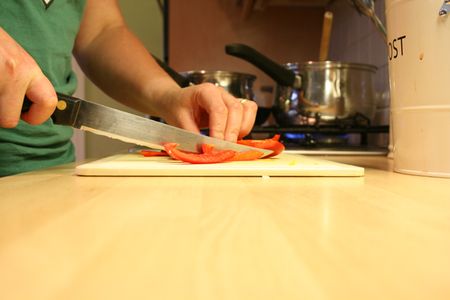 Cooking the dinner.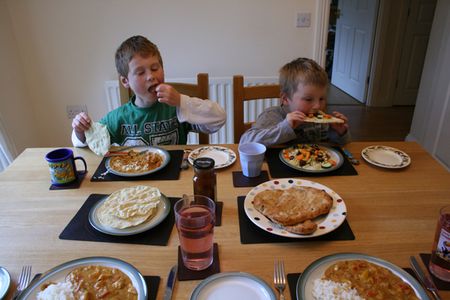 Eating the dinner - chicken korma, peshwari naan and poppadoms, and pasta salad for Callum.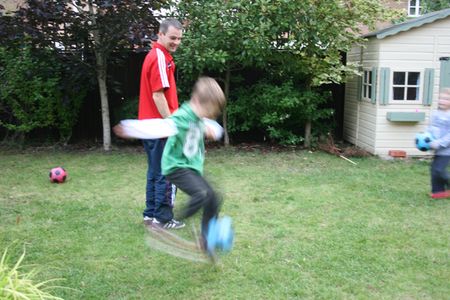 Jeff teaching the boys some football skills, hence the blur of legs. Callum kicks two balls out of the garden and I get one ball stuck in a tree!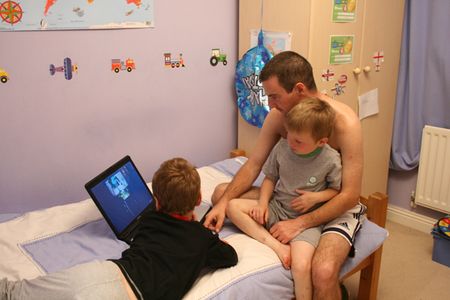 Jeff decides to show the boys some funny music videos, beginning with Peter Gabrielle's 'Sledgehammer'.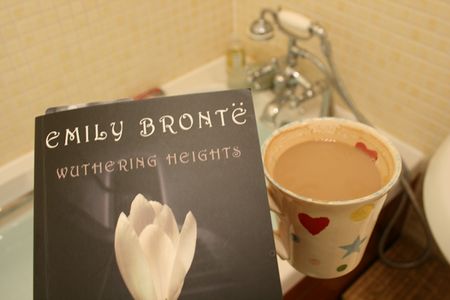 I decide to leave them to it and have a bath. Always accompanied by a coffee and a book. I'm currently reading Wuthering Heights but it's hard going and I'm looking forward to finishing it and reading something else.